Update
Both bags are now sold. Thanks for the interest!
As I mentioned, I have two bags from Tom Bihn for sale. Both are in excellent condition and well-suited to their designed purpose. I simply have too many bags.
Founder's Briefcase
SOLD

!

This bag is now sold as well.
The Founder's Briefcase is one of the newer bags from Tom Bihn. You can read more about the features and design list on the design blog. I've summarized those features here:
Color is steel/steel (as pictured above)
Comes with packing wedge (+$25 value)
Padded sleeve on one half fits up to a 15" laptop, handles my 13" Air without worry
Three mesh compartments on the bottom
Pen pouch
Zippered inner top pouch fits an iPad Mini (Retina or other) perfectly
Side pocket holds any iPhone and a Nexus 5
Two outer zippered pockets for quick items
Carrying strap
All-in it's an excellent briefcase. The clamshell design makes it easy to pack and carry throughout the day. Properly loaded it stands without needing to lean against anything. The water resistant zippers are fantastic as well. I've carried this bag in heavy rain and never worried about the contents getting wet.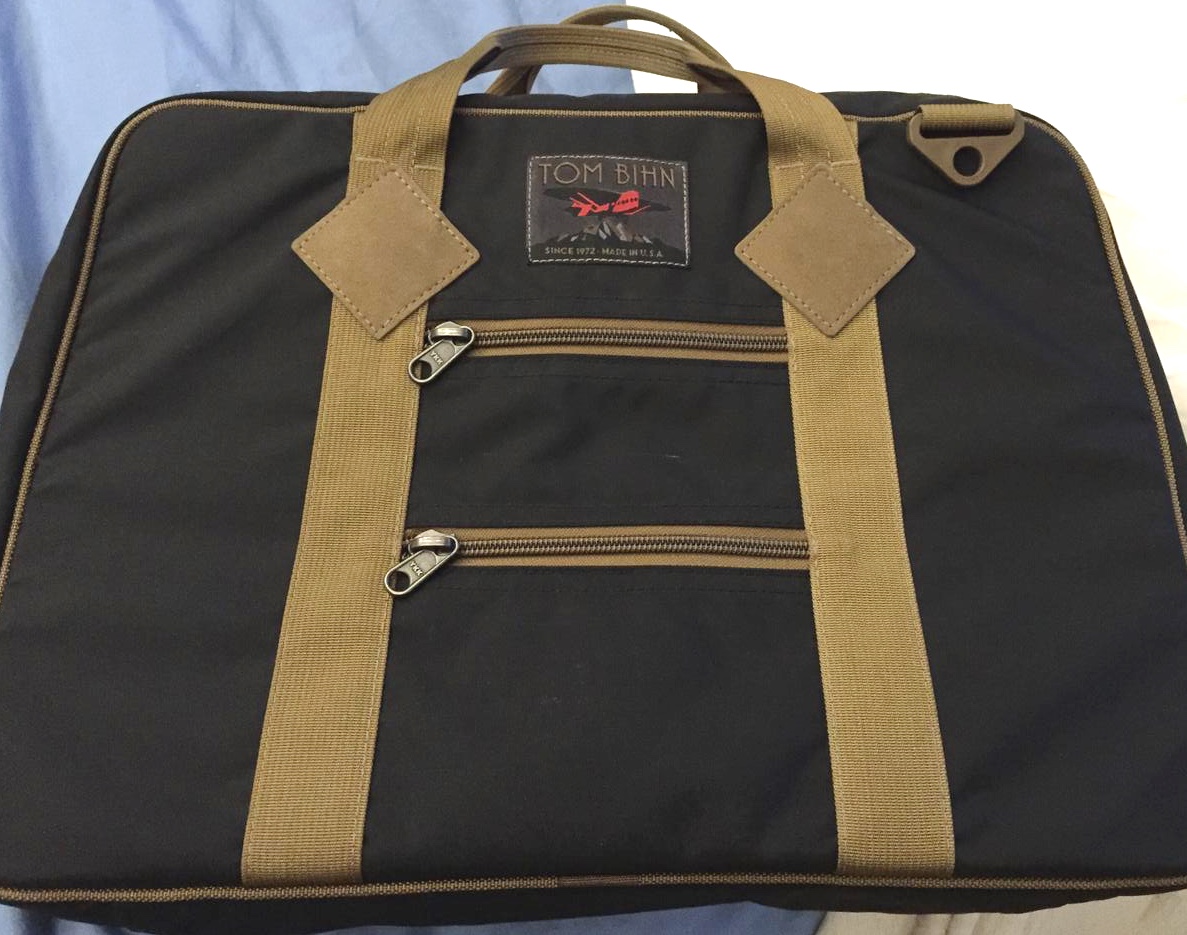 This bag retails for $245. Yours for $175.
Zephyr
SOLD

!

This bag is now sold, can I interest you in the Founders?
Impossible to buy right now since it's sold out on the Tom Bihn store. Grab it here instead! Summary of features:
Spacious internals easily holds laptop + accessories
Outer flap is surprisingly useful
Non-zip stash pocket on outside
Two external zippered pockets
Additional storage and compartments under the flap.
Comes with an Absolute Shoulder Strap ($30 value, seriously the best strap I've ever used)
This bag retails for $200. Yours for $140.
---
I'll knock $15 off if you want both bags for a grand total of $300.
Contact me either via email or on Twitter.
Shipping is calculated separately but I'm not gouging anyone on shipping costs. FedEx, UPS, USPS, all workable options. Additional real pictures will be posted tomorrow.